Canberra Data Centre, Canberra, ACT
The Canberra Data Centre (CDC), a data centre colocation provider, owns and operates the majority of data centre capacity in Australia to deliver world-class enterprise facilities and services. Since completion of its' first data centre at Hume in 2009, CDC has expanded to a total of three data centres, along with a second campus and data centre in Fyshwick.
Project Design Brief
Due to local government requirements, designers were required to incorporate an on-site stormwater detention system to alleviate runoff downstream. The 420m3 underground tank needed to be trafficable, durable, easy to install and maintain as well as cater for the total runoff volume from the pavement.
ACO's Solution
StormBrixx® SD geocellular stormwater management system
ACO's Technical Services Department provided the designer with structural calculations, installation drawings and a bill of quantity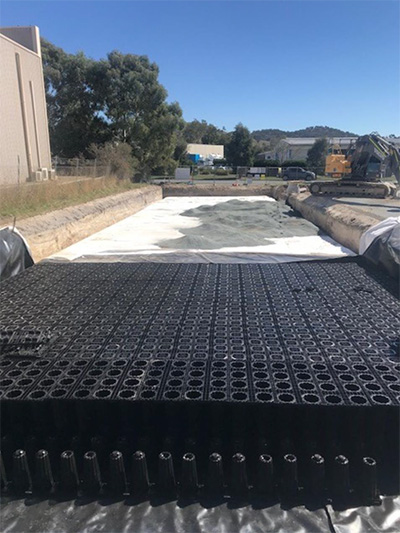 Benefits
The lightweight stackable design simplifies delivery and site logistics and is also quick and easy to assemble on site
The tank's brick bonding and cross bonding feature provides unparalleled stability
Tested independently to certify structural integrity for long term strength
Unique pillar configuration, which provides a high void ratio of 97% for optimum hydraulics
Access units together with the unique pillar configuration enables entry into the tank for maintenance and inspection with a camera for silt management